Istanbul's newest achievement Galataport to welcome its first cruise in 2020
Istanbul's newest showcase launched with USD 1.7 billion investment including the contract price, Galataport is getting ready to host its first cruise arriving in 2020.
*Istanbul's newest showcase launched with USD 1.7 billion investment including the contract price, Galataport is getting ready to host its first cruise arriving in 2020.
* 250 retail stores and food & beverage points, 43 thousand squaremeters of office space will remain and various cultural and art activities will take place at Galataport and yearly 25 million visitors are expected.
*Gathering 2 museums and a recreational area of 14 thousand squaremeters at its site at the city center, Galataport's competitor in this field is one of Europe's greatest ports Barcelona.
Turkey's front Istanbul is being diversified with new destinations. The city embracing a worldwide masterpiece of aviation with Istanbul Airport, is now counting down for Galataport to achieve a similar beauty in maritime. Galataport is established for increasing the operational efficiency of ports and for developing this project which will be composed of a cruise terminal of global scale and cafes, restaurants and stores as well as one of the leading global luxury hotel chains. With an investment of USD 1.7 billion including the tender price and covering a coast line of 1.2 kilometers at the most beautiful spot at the Bosphorus, the project is among world's major destination projects. The cruise port at the Galataport which will be competing Istanbul with world's major ports, will start hosting its first guests in 2020. The first ship is planned to be welcomed in 2020. The commercial areas will be launched in 2020 and the hotel will be opened in 2021.
DAILY 15 THOUSAND PASSENGERS
Erdem Tavas, CEO of Galataport Istanbul Port Management and Investments Inc. stated that through the project, in addition to transforming Istanbul's historical port to a cruise port at world standards and a new destination, a coast line will be opened for the access of the people after nearly 200 years. Telling that to that end they designed the terminal with a unique and special underground system, Tavas added, "For the first time in the world, the bonded area is separated from the rest of the site through a special panel system. New terminal is being designed to an area of 29 thousand squaremeters and when completed, simultaneously 3 ships could be berthed. In this way it will be able to serve 15 thousand passengers a day. On account of the software program, we will be able to regularly register the bookings of the cruise companies and to use our dock."
35 PERCENT TO GASTRONOMY 
Underlining that with Galataport they have been creating a brand new center available for 7 days and 24 hours in terms of cultural life and arts, Tavas continued: "Galataport will be offering a wide range of facilities to its visitors from culture and arts to gastronomy and entertainment to resting facilities for 7 days and 24 hours. With many local and international boutiques, and a rich selection of food and beverage brands we will be shaping the gastronomic meeting point. Approximately 35 percent of the project is assigned to gastronomy. The total number of planned retail stores and food and beverage points is 250. The rentable spaces for shopping and food and beverage sports is nearly 52 thousand squaremeters. Nearly 43 thousand squaremeters of rentable space has been assigned for offices. A 177-room hotel will be developed with the restoring of the historical buildings as part of the project. Hong Kong's Peninsula Group with merely 10 hotels across the world will be opening a new hotel at the Historic Peninsula of Istanbul. Peninsula Istanbul has been launched with an investment of 300 million Euros, by assuming half of the investment the Peninsula Group will be contributing greatly to Galataport and our country's tourism both as an investor and an enterprise."

25 million visitors
Galataport will be serving 1.5 million passengers including the crews along the year. A total of 7 million foreign visitors are expected to visit the facilities. Meanwhile, the total number of yearly visitors to the project is at the level of 25 million. Due to its strategic position, Istanbul already feeds many cruise regions. Access to certain geographical regions such as the Black Sea, West Mediterranean, East Mediterranean and the Aegean Region will be maintained when Istanbul is included to the courses.
Bookings completed
American, European and British cruise companies added Turkey and Istanbul to their courses. World's greatest two cruise companies Carnival Corporation and Royal Caribbean Cruises being in the first place, Celebrity Cruises, Azamara, Viking Cruises, Holland America Cruise Line, Regent Seven Seas Cruises, Celestyal Cruises, Le Ponant, Silversea Cruises, Fred Olsen Cruises, Marella Cruises, Wind Star Cruises are among the cruise companies that booked to Istanbul Port.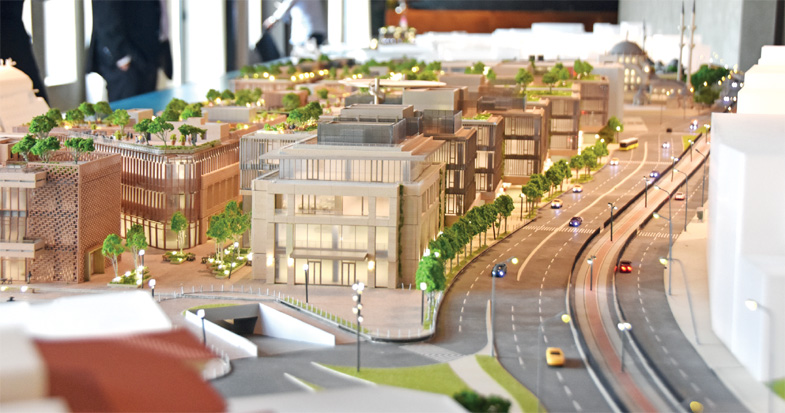 The groundbreakers of the project
With Galataport, Istanbul will be embracing a significant zone that contains culture and art centers, a cruise terminal in world standards, a prominent hotel chain, brands appealing various segments, cafes, restaurants, office spaces in Karaköy gathering tourists and inhabitants of Istanbul.
The capacity of the old terminal has expanded four times. The terminal will maintain all the facilities offered by a modern airport terminal. For the first time in the world, a project will be gathering components such as 2 museums and a recreational area of 14 thousand squaremeters behind the port site at a city center. The new museum of Istanbul Modern is being designed by museum architect Renzo Piano. On the other hand, Mimar Sinan University is also making its mark on a very special museum; 11 thousand pieces from its own collection and 3 thousand paintings from Turkey's greatest contemporary artwork collection will be displayed at the Art and Sculpture Museum for the first time. The historic buildings at the site will be restored through special techniques. For instance, the clock tower in the middle of Tophane Square has been refurbished within this scope. Turkey's greatest diaphragm wall production is also conducted at this port. The bus and taxi traffic and luggage operations will be conducted underground. The port will be introduced as a port available for 12 months. A 60 percent discount will be given to the ships arriving during winter.